It has been real hard to keep secret for the last weeks where I had those new features and could not share with anyone, and is somewhat "liberating" to finally have the chance to review the new version of Google Analytics being announced today.
Google, as Google, usually do not "announce" new features. What happens is you either find smth in their blog, or you simply log in to your account and you find some nifty new tools and gadgets. This is in their DNA and is part of the magic, at least in my opinion.
Today's news: Powerful. Flexible. Intelligent
With a bundle of new features, Google Analytics includes more powerful
reporting capabilities, provides greater customization options, and
adds an innovative Intelligence engine to drive smarter data
insights. These capabilities help customers better understand visitor
interaction with their websites and make smarter, more informed
decisions for their businesses.
POWERFUL #1: Google Analytics Goals 2.0
Don't you just hate it when you need more than 4 goals per profile? No more!
Now you can setup up to 20 goals per profile split to 4 sub-sets of 5.
More over, you are no longer tied to define a goal by a visitor who reached a certain page – If your website is trying to measure engagement, you can define goal for users who reached a certain threshold of pages/visit or time on site!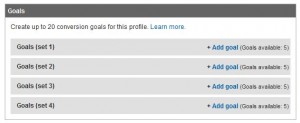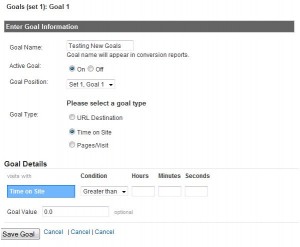 Powerful #2: Expanded Mobile Reporting:
Google Analytics now tracks mobile applications built for iPhone and Android devices. Mobile app developers can understand how users engage with their mobile apps, such as what actions are taken within an app and what features are used. For Android-based applications, engagement can be tied back to ad campaigns. Developers can see which ads drove downloads and then app usage and engagement.
In addition, for customers with a mobile website, Google Analytics can now track traffic to mobile sites from all web-enabled devices whether or not the device runs JavaScript. In the coming weeks, site owners building on PHP, Perl, JSP or ASPX will be able to add a server side code snippet to their mobile websites to enable this tracking.
Powerful #3: Advanced Analysis Features
Google Analytics provides an arsenal of power tools you can use to perform in-depth, on the fly analysis without having to export your data to spreadsheet tools. Using Secondary Dimensions, you can view multiple levels and combinations of data side by side instead of having to drill down into each level.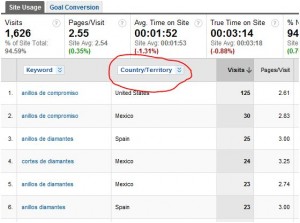 Secondary Dimensions are super useful, and enable to drill down data and cross reference it.
In the example above, we are looking at keywords then comparing them with the different geographic locations to find insights on the actual placements and users who arrived at the web site using those keywords.
You can then use the Pivoting feature to cross-tabulate two different metrics with two different dimensions. In the example below trying to match between organic keywords and the correlated search engines:

Advanced Table Filtering allows you to filter the rows in a table based on different metric conditions and combination. In the example below, I'm trying to exclude those "bad" visits with 90%+ bounce rate and to look only at the quality traffic. You can save, edit and reuse your advanced filters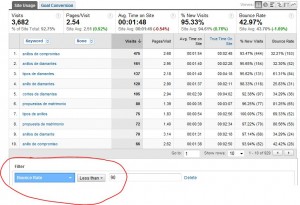 Unique Visitors as a new metric in Custom Reports: Now when you create a Custom Report, you can select Unique Visitors as a metric against any dimensions in Google Analytics. This allows marketers to see how many actual visitors (unique cookies) make up any user-defined segment in a Custom Report.
Flexible #1: Multiple Custom Variables:
Organizations require flexible analytics tools that can meet their unique reporting needs. With the following features, Google Analytics adds powerful customization capabilities to meet those demands.
We are starting to release Multiple Custom Variables over the next few months. Custom Variables gives power-users the flexibility to customize Google Analytics tracking to collect the unique site data most important to their business. With this feature, users can classify any number of interactions on the site into trackable segments.
Multiple custom user segments can now be collected at the page, session, and visitor-level concurrently.
For example you can now define and track visitors according to visitor attributes (e.g. member vs. non-member), session attributes (e.g. logged-in or not), and by page-level attributes (e.g. viewed Sports section).
Flexible #2: Share Segments and Custom Report Templates
In addition to the ability to create Custom Reports and Advanced Segments, you now have greater control over administering and sharing your customizations. Simply share the URL link for a custom report to anyone who has an Analytics account and a pre-formatted template will automatically be imported into their account. You can also select which profiles you want to share or hide your Advanced Segments and Custom Reports with.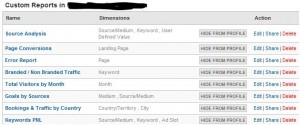 INTELLIGENT – The Tip of the Iceberg!
Well, first time I saw Intelligence reports, I had this funny smile all day long. Sometimes, you see that no matter how smart and sophisticated you think you can be, no matter how deep you will analyze, dig in the piles of raw data and reports – there will be a day when you will wake up and a click of a button will give it all to you at once. Google Analytics intelligence is one of those things.
Highly Intelligent #1: Automatic Analytics Intelligence:
New "Intelligence" reports provide automatic alerts of significant changes in the data patterns of your
site metrics and dimensions over daily, weekly and monthly periods.
It is a part of the initial release of an algorithmic driven intelligence engine.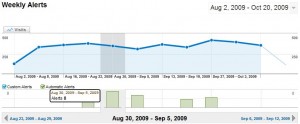 For instance, Intelligence could call out a 300% surge in visits from YouTube referrals last Tuesday. Instead of having to monitor reports and mine through data, Analytics Intelligence alerts you to the most significant information to pay attention to, saving you time and surfacing traffic insights that could affect your business.
Highly Intelligent #2: Custom Analytics Intelligence:
Custom Alerts: Customers can create custom alerts to tell Google Analytics what to watch out for. They can set daily, weekly, and monthly triggers on different dimensions and metrics, and be notified by email or in the user interface when the changes occur.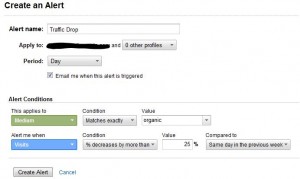 To summarize this post – Google has done it again, they are presenting features and capabilities previously available only with super expensive and complex software suites, enabling web marketers and analysts of all sizes to enjoy the beauty of the web – the ability to measure, quantify, analyze and IMPROVE each and every single action.
For more information:
Google Analytics Channel @ YouTube
Google Analytics Official Announcement
E-Nor Review of the new features
(and if this post wasn't clear enough – I simply love it!)