I had a conversation with Brett Crosby from Google Analytics some hours ago, and it appears Google Analytics is releasing very powerful new features for their free web analytics suite. I must say at first I was not very optimistic, but when our conversation ended, and I was looking at the screenshots – My head was simply nodding unwontedly – These guys usually roll out great products, but these features I'm about to cover are way more than "features". These have the potential to actually CHANGE to way we do web analytics, and the significantly change the way we treat the web as a marketing tool!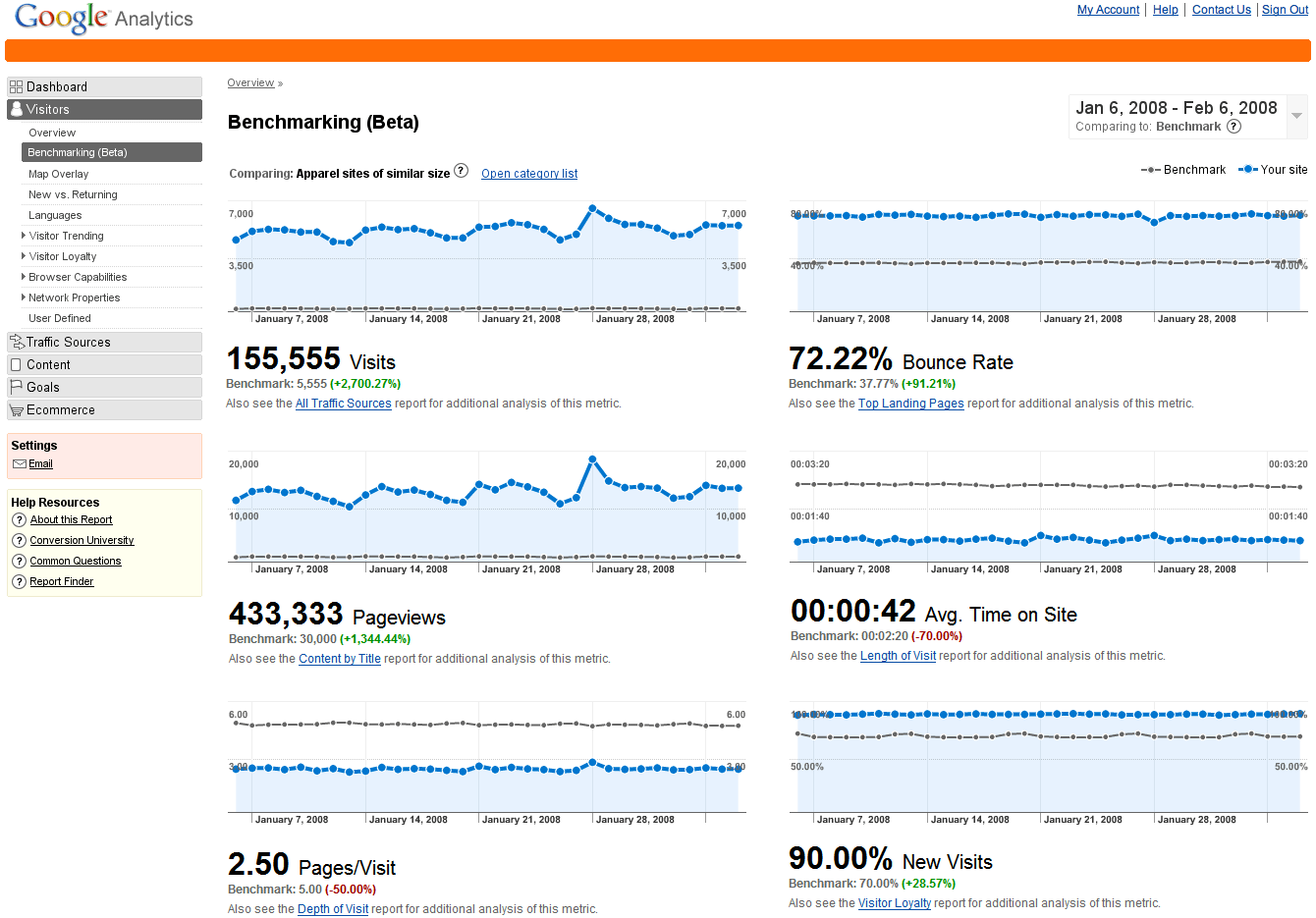 First, I must say, I'm not a big fan of Google Analytics. It's a powerful product, but a bit limited in my opinion. That being said, I do believe that the new version of Google Analytics is much better than when it first rolled out, and getting better still as I write this post, and will get so much better in the future. The reason is simple – Google has the "want" factor and the "can" factor to do it.
The "want" to provide a good analytics tool for their advertisers and prospective advertisers; and the "can" to be able to afford to invest the relevant resources in order to get where they want. "Money talks and Bullshit walks" can also explain that I guess 🙂
Well, back to business:
1. Google Analytics Industry Benchmarking (Beta)
Have you ever wanted to know how are you doing compared to your competition? to the overall market segment you belong to? Well, with Google Analytics – now you can!

"Industry benchmarking is a commonly requested new service that enables
customers to see how their site data compares to sites in any
available industry vertical. We believe this data will provide
actionable insights by providing context for users to understand how
their site is doing. For example, if you have a travel website and you
get a spike in traffic on Mondays, you may want to know whether other
travel sites get that same spike on Mondays."And this is just the beginning. Imagine comparing page views per visit, time spent on site, bounce rate, conversion rate, CPA's and other important KPI's with web sites like yours! In the 9 years of my online professional life, I hadn't met a single client who did not request this information!
And a word on privacy:
Google Analytics Industry benchmarking will work based on a "date sharing community" model where benchmarking only works if people opt to share their data into the system, customers can choose whether to opt in or opt out of sharing their Analytics data. To be clear… sharing individual data will never be shared with competitors; Google will bucket data into industry verticals and then anonymize and aggregate the data. Once you opt in, it may take a couple weeks for the reports to populate.
The idea is this: you get to see benchmarking only if you share your data – so that is you're incentive to opt in. Simple, genius.
One of the reasons I don't like Google Analytics is I don't like giving all my information and data to an important media outlet. However, with this move, on one hand the "sharing" is being "laundered" – but on the other hand, everybody is winning (including Google) – so I must say that for me, as an advertiser and a consultant, this makes more sense than ever to use analytics, share my data and get the benchmarking.
2. Google Conversion Optimizer Integration woth Google Analytics
You can also elect to share your data with other Google services. This setting will allow us to provide you with additional advanced new
features. For example, many of you have asked us to integrate Conversion Optimizer (which is currently only available to AdWords Conversion Tracking users) into Google Analytics. By opting to share your data with Google, you'll be able to take advantage of these related new features as they become available.
Just imagine what you can do by integrating the conversion optimizer data with the user behavior on the website.. Oh my!
3. Audio Ads Integration with Google Analytics

"Audio Ads advertisers can now see how their campaign metrics for impressions, spots, markets, and CPM compare and correlate against their website traffic data provided by Google Analytics, such as conversions, revenue, and transactions."
As much as I love the benchmarking idea, I think this one is by far an actual breakthrough!
Avinash Kaushik, one of my favorite bloggers and Web Analytic Guru, who also happens to consult Google with regards to Web Analytics, wrote a post a few weeks ago analyzing the correlations between radio ads and web site traffic, with deep insights into web site traffic, branded vs. general searches and direct visits.
It now makes even much more sense. Google will now enable advertisers who run audio ads, to analyze their effect on their web site, with integrated data from the Google Audio Ads panel and get insights from the cross-channel advertising not only on the online but also offline.
Last week, I was giving a lecture to some 40 webmasters oin web analytics, so I revisited Avunash's once again, and I was so curious to find out how to come up with such practical metrics and insights and moreover, a true online-offline marketing experience.
OK, so obviously doesit seem like I am getting fond of Google Analytics? Someone once told my that you have to be an XX to keep making the same mistakes. I'm beginning to see that even if I did not make mistakes, my view on this tool is going to change. Let's just hope it works as they promise and give correct data, because if it does – We are on the way to a much more efficient and sophisticated spending strategy.
*cheers*
Ophir