Google Quality Score update has started to take effect on my accounts. In a previous post I covered the upcoming Google Quality Score changes. It seems last few days the change started to show on my accounts, and the outcome is quite interesting. Google is now sharing with us a real rank – score of 0 to 10 out of 10 possible points, and when our score is low they recommend us the necessary changes in order to improve our quality score!
The Official Quality Score Changes:
1. Up to date calculations – will be performed every time every search query occurs
2. Keywords no longer marked 'inactive for search'
3. 'First page bid' will replace 'minimum bid'
For more info See google quality score update, August 26th 2008. and on the AdWords Blog from August 21st 2008.
So what's new?
For the last few days, I am starting to see the effect of the change, which is up until now mainly visual. It seems Google quality score now actually has a score!
Up until now, the score was either Poor, OK or Great – last few days, my quality score shows a rank out of 10 i.e. 2/10 (for poor) or 9/10 for great – ain't that so cool?
Well, apart from the fact it looks very self explanatory, they added tips and guidelines which are changing based on the score, and based on the different keyword / bid /ad / landing page combination. This is IMO a very important step for better transparency Google now offers advertisers.
Let's see some examples:
Great Google Quality Score
This example (from a live campaign) is from a high performing keyword. I added the numbers to show the clear correlation between the performance of the keyword and its quality score.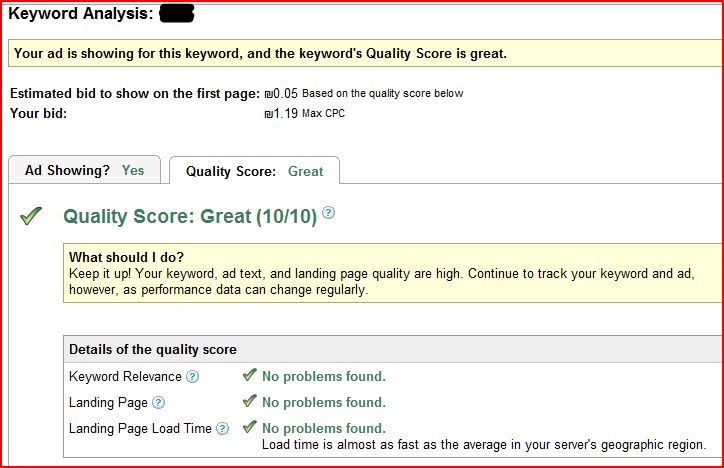 OK Google Quality Score
In this examples we see the difference between 5/10 and 7/10, where Google decides to add or not to add their comment to my keyword.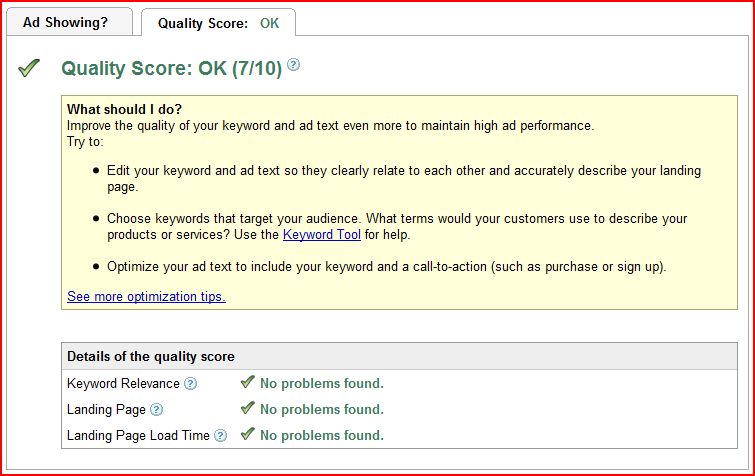 Poor Google Quality Score
Pure and simple – poor performance, poor keyword and Google says – Dude, you are better off without this word! It's not showing ads, it does not convert and the user experience is not good enough. In other words – either optimize your campaign or delete this word.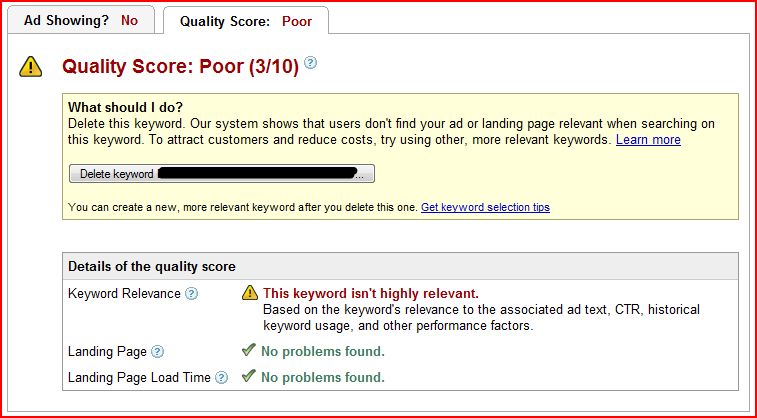 The official release note is at the AdWords blog
We'll keep following the changes and updating on new features and implications f this new system. I'm sure there's more to it than this though.
*cheers*'
Ophir
P.S
Don't forget to follow my twitter: http://twitter.com/ophirc