I read a new research summary from eMarketer this weekend. The summary analyzed three interesting researches on the interesting subject of User Generated Video and the demographic segmentation of its use.
The three article examined the demographic patterns of user generated video consumption, trying to identify segments which tend to use and consume this type of media more than others.
While these articles provided a world of graphs, charts and precentages of all kinds (I'll review most below) I'd like to focus on a few figures which I found quite interesting:
1. Online Video Content Categories
An average of 30% would watch TV episodes online and 28% would watch full length movies vs. 14% for news Videos and only 8% Amateur or User Generated Videos.
2. Gender Profile for User Generated Video
While on traditional internet use stats, we are used to see a 55%-45% split between male and female, the articles showed 20% male vs. only 11% female who actively visited user generated video sharing web sites, and 63% male vs. 51% female video viewers in general.
I, for one, didn't see this one coming. If anyone cares to explain why male are more dominant in this niche – I'll be happy to hear!
3. Age Profle for User Generated Video
Well this is no surprise – but for 18-29 years old 30% visit User Generated Video sharing websites, vs. 14% of the 30-49 years old segment, 7% of the 50-64 years old and only 4% of the 65+ segment. I guess user generated video is not yet the domain of the "silver surfers" – a segment I'm going to review in details in the coming weeks.
Important: this refers only to user generated video. The numbers for general online video consumption are much higher: for 18-29 years old 76% , 57% of the 30-49 years old segment, 46% of the 50-64 years old and only 39% of the 65+ segment.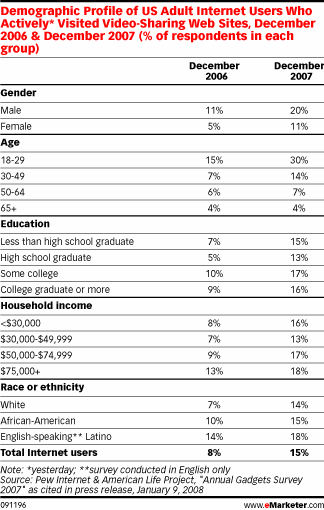 The inspiration for this post was published on eMarketer and based on researches by: Accustream , Harris Interactive and the "Annual Gadgets Survey 2007" by Pew Internet & American Life Project.