Ohh do I like these nifty add-ons… Especially when they help me be more efficient and perform simple but repetitive tasks faster and better.
Today I will cover two new Google Analytics add-ons – increase your size & snip-n-tag – I strongly recommend using – so you better read on…
Google Analytics Add-on #1 – Supersize Me
No, I'm not talking about the controversial movie but a very nifty add-on for Google Analytics which is going to make my work so much more efficient.
gaDeAnalyse is a greas monkey script which you install and it changes the way web pages look by altering the HTML via JavaScript (very simplified explanation. details here)
gaDeAnalyse solves two very nasty pains of Google analytics:
1. Having Funnel creation/editing form fields too narrow
gaDeAnalyse simply expands these fields for much better and easier configuration (no more moving back and forth with the arrow…)
Before: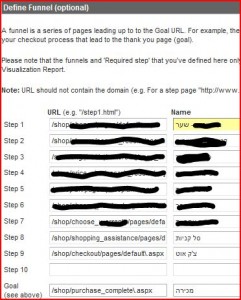 After: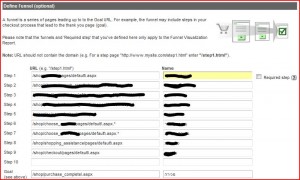 2. Funnel and Filters Auto-Complete
Typing the same filter rules again and again is sometimes very frustrating. so this cool tool gives us the auto-complete too!

This tool was developed by Brian Katz at VKI Studios a colleague I highly respect – way too go Brian!
Installation:
Instructions on installing the script:
Make sure you have Greasemonkey installed in Firefox.
Click on this install link for gaDeAnalyse
Now log-in to your Google Analytics account and enjoy – particularly all you exhibitionists out there who do screencasts and demos of long filter expressions and goal paths.
Google Analytics Add-on #2 – Snip-N-Tag Link Builder
Creating links with good tracking URLs is something I always struggle with my clients. Mistakes often happen when they leave out a mandatory parameter or simply compose the syntax wrong… But these are not close to sending these long parameter rich URLs via email…
So Tyson Kirksey @ NMG built us a firefox sidebar which builds these URLs on the fly. His initial idea was to improve the way we track twitter referrals, but I find his solution (only launched this week) to have a much broader potential to help end users build customized, shortened and traceable links to whatever traffic they are generating for their web properties.
This is much better than the regular Google Analytics Tracking URL builder as the sidebar is much more accessible and does not interfere with the browsing experience (stay on the same page) plus get the short URL in place…
And here's how it looks like: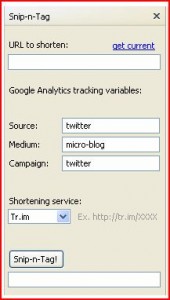 Install Snip-n-Tag here.
So folks, thanks to Tyson and Brian we now have better tools – Download, use, feedback, twitter, link etc…
*Cheers*
Ophir